---
Pictures of the October 27, 2004 lunar eclipse
These are pictures of the total lunar eclipse on October 27, 2004. I took them through a Cannon PowerShot A20 digital camera held up to the objective. The first few are with a pair of Pentax 10x50 PCF WP binoculars. The night was really cloudy. After it cleared a bit, I got out my Celestron C6N and took the rest.
All of them are pretty bad. Either out of focus or overexposed. I tried a bunch of settings on the camera, but settled down with manual exposure, focus set to infinity, no flash. The focus isn't quite in the same place for the camera and my eye, and I didn't check the focus on any of these until the next morning.
It's a shame, because I did get a great picture of the moon with this set up, but on the 26'th of October, the night before the eclipse: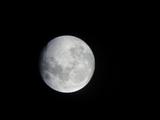 Maybe next time!
---

Humberto Ortiz Zuazaga
humberto@hpcf.upr.edu

Most recent change: 2005/1/4 at 21:38
Generated with GTML